What Is a Cold Email?
Cold email is an email to someone you don't personally know or weren't introduced to with a proposal or an ask. Cold emails are super powerful and underestimated in job search which makes them an excellent strategy to land an interview or a meaningful conversation that can lead to an opportunity later.
Cold emails got a bad reputation because they've been used aggressively in sales over the years and because when used incorrectly, they can hurt your relationship with someone before it even starts.
When used correctly though, it can kick off an entire career, start a real friendship, or a long-term partnership. Cold emails are magic. We'll show you how to write powerful cold emails that will help you land your new job.
Why Should You Send Cold Emails for Jobs that you Like?
Well-crafted personalized cold emails are one of the most effective strategies for landing a job for a few reasons.
1. Higher chance of talking to the decision-maker.
When you cold email a founder or a hiring manager, you increase your chances of talking to the decision-maker. If it's timely and uses an effective subject line, it will be read or forwarded to the right person.
To compare this to the regular application strategy, a corporate job offer attracts 250 resumes on average. Recruiters spend a mere 6 seconds reviewing a resume and most of them get rejected. By choosing the cold email strategy, you can skip applying via a job board altogether and get ahead of other candidates.
2. You automatically stand out.
By simply using a different medium you have a chance to stand out from the crowd. You can craft a unique subject line and use a tone that reflects your personality and gets your value proposition and ask across. This is the power of a cold email that the regular job application format just doesn't offer.
Remember this, startups are simply on the hunt for the most clever people who know the 80/20 rule. What is 20% of the work that will get me 80% of the benefits? A cold email beats a regular job application any day.
3. You get to control the narrative.
No one's career is straight forward and you probably have some experiences that are not super relevant to the opportunity. Cold outreach gives you space to personalize the heck out of your story and add color to it that is so often missed in resumes and CVs. If you are really passionate about the company and feel like there is a fit between your background and an opportunity, you can paint the picture for the person you're reaching out to you without them having to do a lot of extra work.
4. You can add value immediately.
Good cold emails have minimum fluff, are concise, and either add value immediately or show how you can add value. If you know specific pain points the recipient is experiencing, you can address them in your outreach. Use active language and talk about the value the recipient can expect to receive. Don't ask for value from them until you've provided them with value. At the end of the day, you're kicking off a conversation, and adding value from the get-go will make a great first impression.
5. You can build trust and rapport.
Good cold emails should come from a place of confidence. You have something to offer, and you are politely asking for someone's time in return. This is your chance to show someone why it's worth their time to engage. Showcase your relevant experience or add a couple of details about your most recent project to make your pitch unique.
Here are some cold email tips that can help you get started.
Before You Send A Cold Email
1. Make a list of companies you want to talk to
You probably have a shortlist of companies that you would love to join. You can browse on LinkedIn, Craft, Indeed, or company websites. If you're interested in a particular tech sector or category, select a category, and see jobs at companies in these tech sectors. You can save jobs that you find interesting to your Notion page or a Google spreadsheet.
2. Identify the best person to talk to at these companies
Go to LinkedIn, type in a company name, go to People, and find who works at these companies. You might want to reach out to different people depending on the role you're interested in and company size. Here are some high-level tips:
1-10 people company: reach out to the CEO
10-50 people company: reach out to the CEO or the Head of a department
50+ people company: reach out to the hiring manager or the Head of talent / Recruiter
3. Do your homework about companies to personalize outreach
Go to LinkedIn, Crunchbase, Twitter or do a simple Google search to see what the company is up to. Did they recently fundraise? Did they launch a new product? Participate in a cool conference or published a study you loved? Do your homework about both the company and the person you're reaching out to. If you're working in the same field, more likely than not you have shared interests or points of view so leverage that in your outreach and make it personal and authentic.
4. Find email addresses of people you want to reach out to
There are plenty of tools that help you find email addresses of people directly from their LinkedIn profiles. You can use Clearbit, Rocketreach, Uplead, or Lusha.
If you don't want to spend any money, Clearbit gives you 100 contacts for free a month. Also, most CEOs have their first name@company_domain as their email address. You can also check if the person you want to reach out to has their DMs open on Twitter.
5. Get the timing right
For a cold email to work it needs to get to someone's inbox at the right time. Open rate depends on many factors. This study breaks down what days and times work best. Here are some highlights:
Tuesday is hands down the #1 best day to send emails according to the majority of the data from studies by MailChimp, Hubspot, and others. Thursday and Wednesday are your next good picks.
10am, 11am, 8pm – midnight, 2pm, and 6am are all great times to send out emails.

How To Write a Perfect Cold Email
Writing cold emails takes practice. Here are some tips that can help you structure your email correctly.
1. Pick a good subject line
35% of recipients open emails based on the subject line alone so it's important to pick a good one. Cold email subject lines are tricky to write but don't try to be too clever. Write a subject line you wouldn't mind sending to a friend or a colleague.
2. Explain why you're reaching out
What inspired your email? Start with something specific and tangible. Blog post, Tweet, piece of news. Display your passion for whatever you're mentioning, and make it personal.
3. Establish Trust
Tell the recipient what makes you a subject matter expert in the field. Show what you've done before that's relevant to this conversation.
4. Be Helpful and Show Value
Show how your previous experience is super relevant to what the team or a company is going through, and how you can help them. Add value before you ask for something.
5. Add a Clear Ask
What should the recipient do? Formulate a clear ask that has no friction. Things like "would love to get your thoughts" or "was wondering what you think" require thinking and are hard to respond to. Ask the recipient to chat further to see if there is mutual interest in collaborating. If you express your passion for the field and genuine curiosity to learn more, it won't come across pushy.
Cold Email Templates and Inspiration
#1. Cold email to Jeff Weinstein (Product at Stripe)
Job landed: Account Manager
Read more on Twitter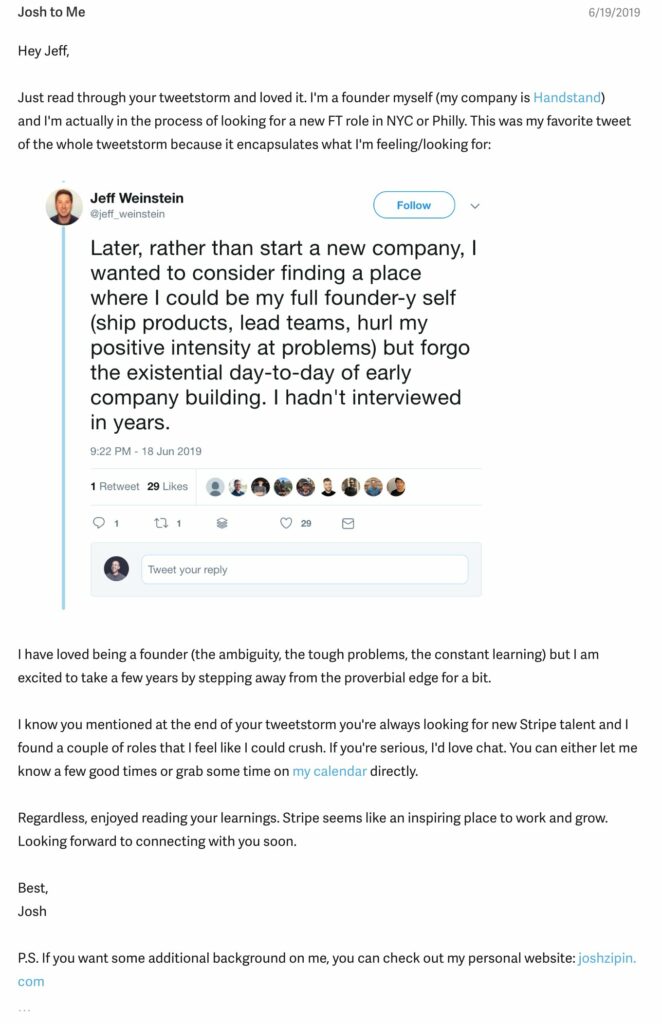 #2. Cold email to Jeff Weinstein (Product at Stripe)
Job landed: Marketing
Read more on Twitter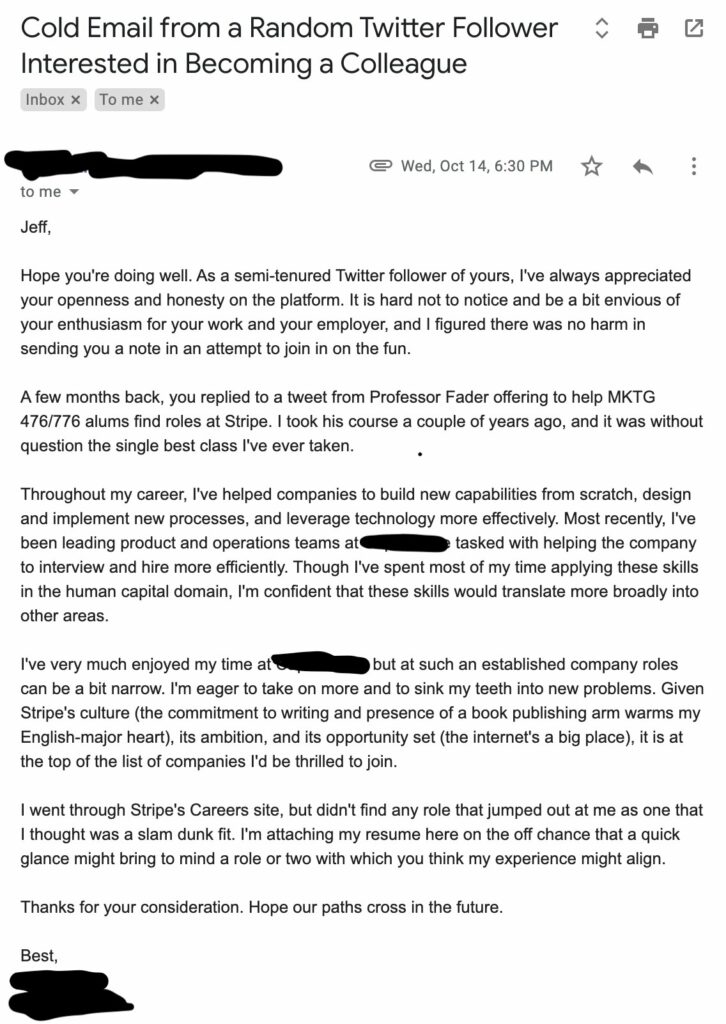 #3. Cold email to Calvin French-Owen (Co-founder at Segment)
Job landed: Software Engineer
Read more on Twitter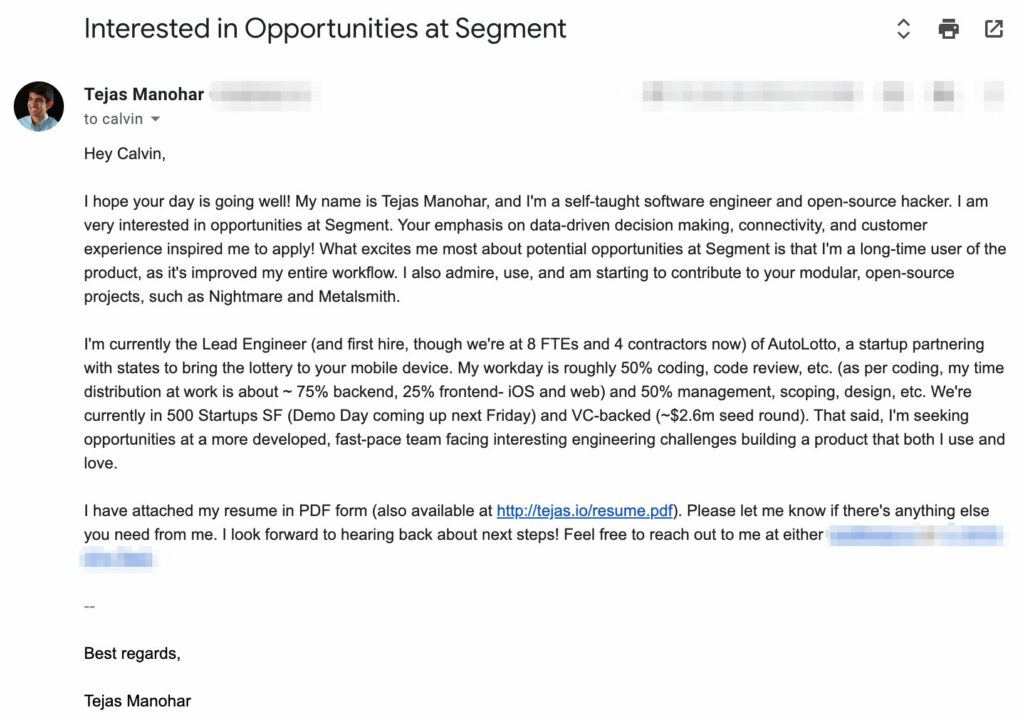 #4. Cold email to Sam Parr (CEO of The Hustle)
Job landed: Writer
Read more on Twitter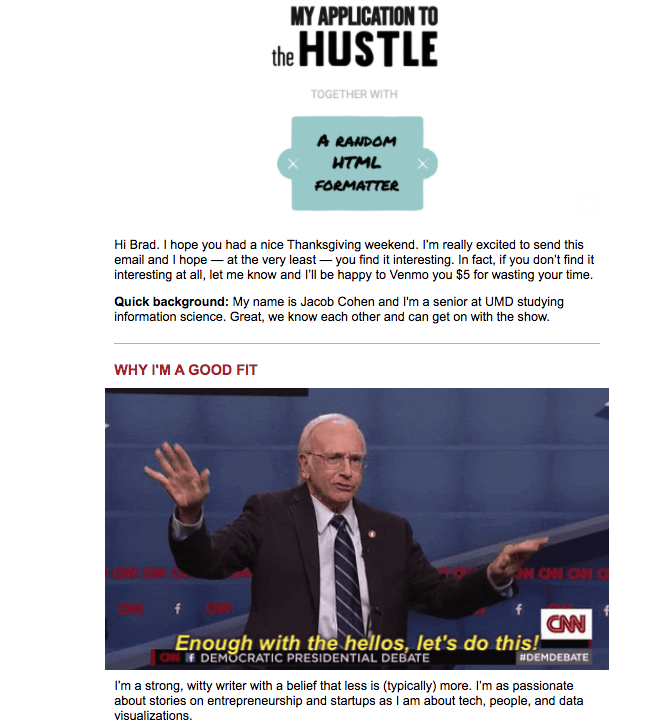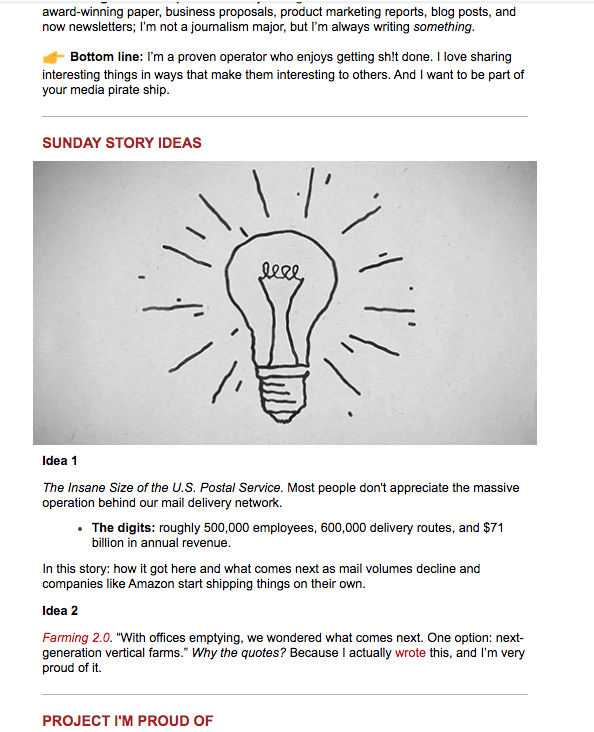 #5. Cold email to the Morning Brew crew
Job landed: Writer
Read more on Twitter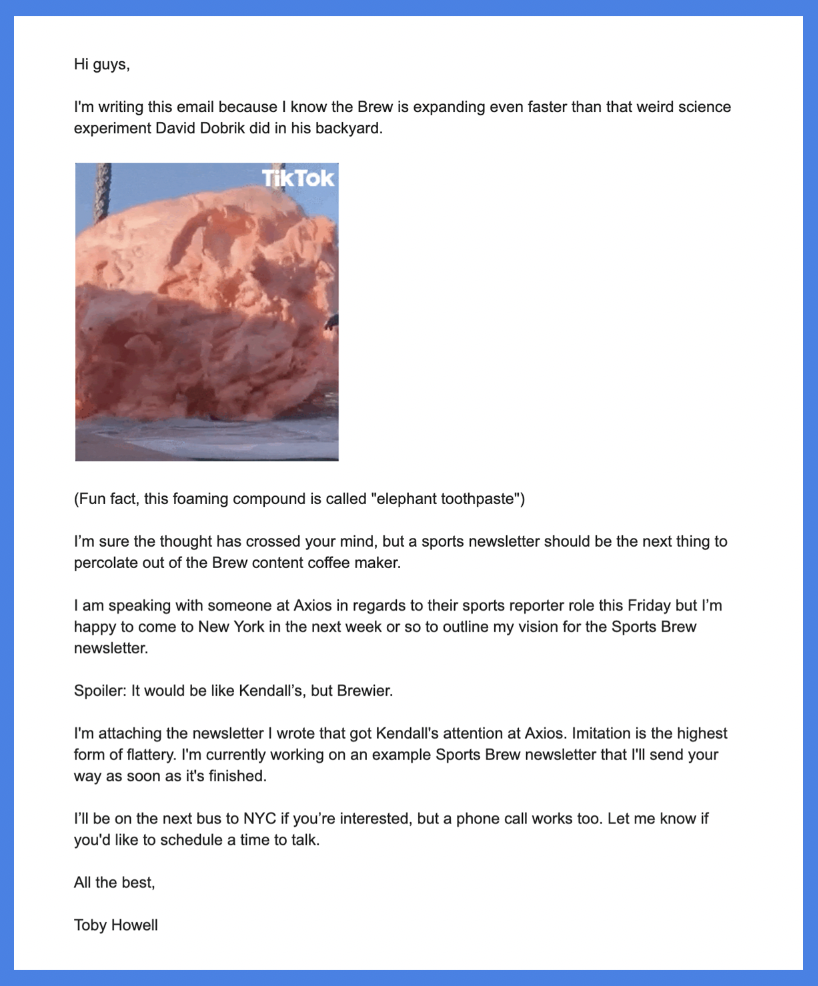 #6. Cold email to Delian Asparouhov (Principal at Founders Fund)
Opportunity: Internship at Eight Sleep
Read more on Twitter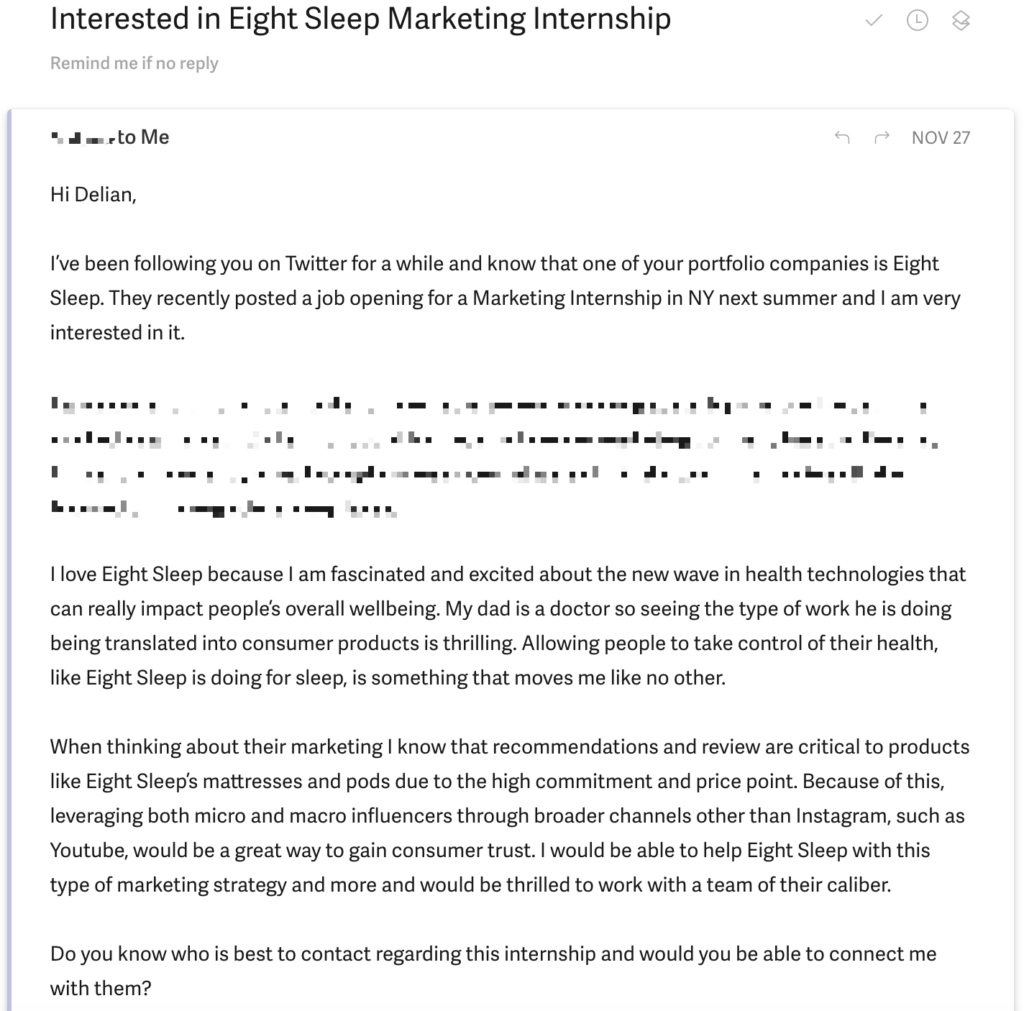 #7. Cold email to David Perell (Founder of Write of Passage)
Opportunity: Web design pro bono work
Read more on Twitter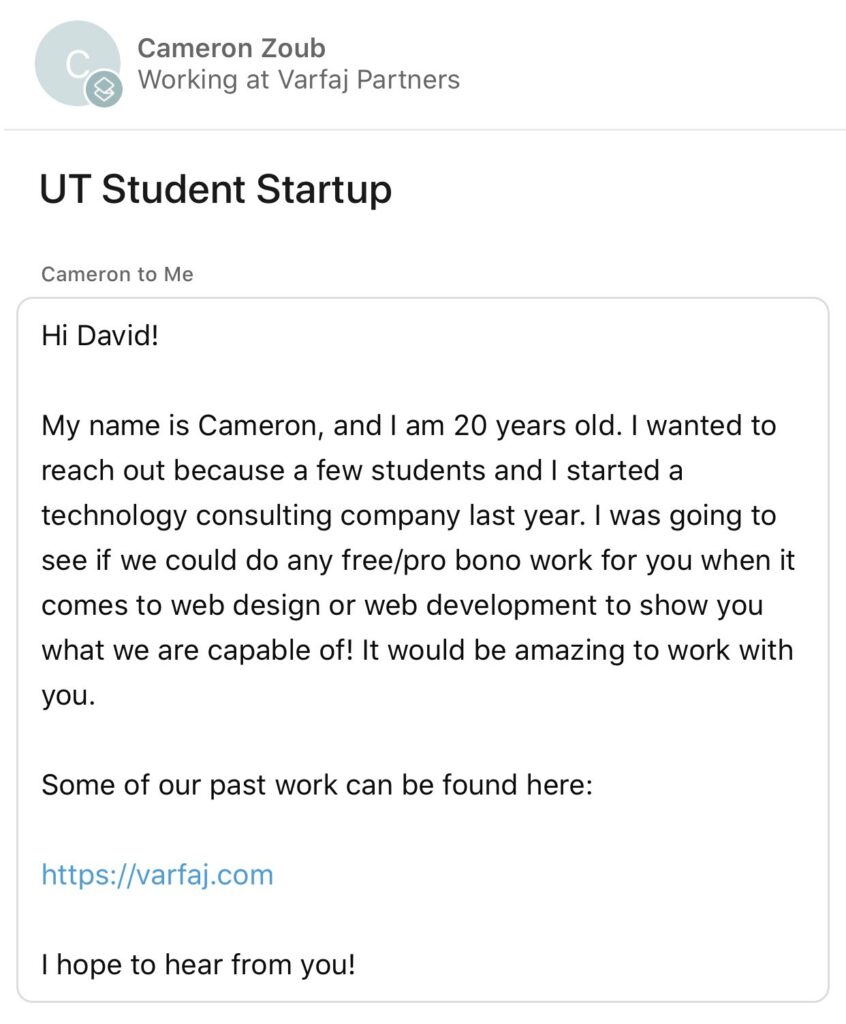 #8. Cold email to Corey Haines (Founder of Swipe Files)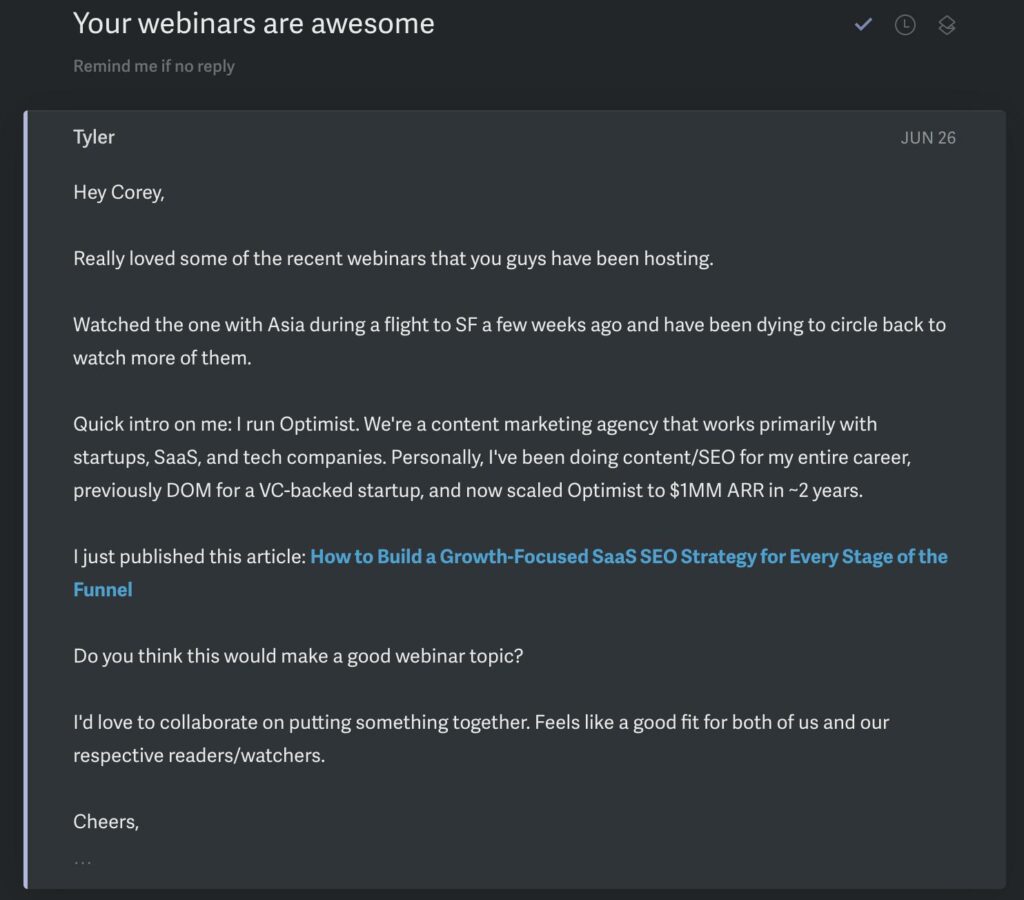 #9. Cold email to Mikael Cho (CEO of Unsplash)
Role landed: Co-founder and Head of Product
Read more on Twitter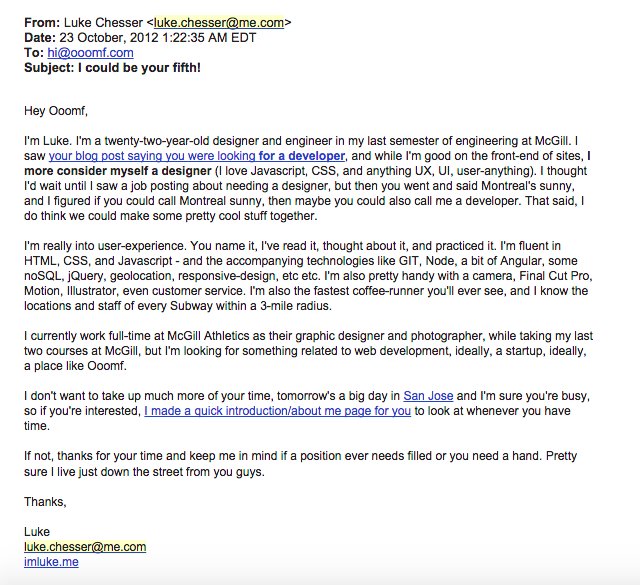 #10. Cold email to Sahil Lavingia (Founder of Gumroad)
Role landed: Growth & partnerships
Read more on Twitter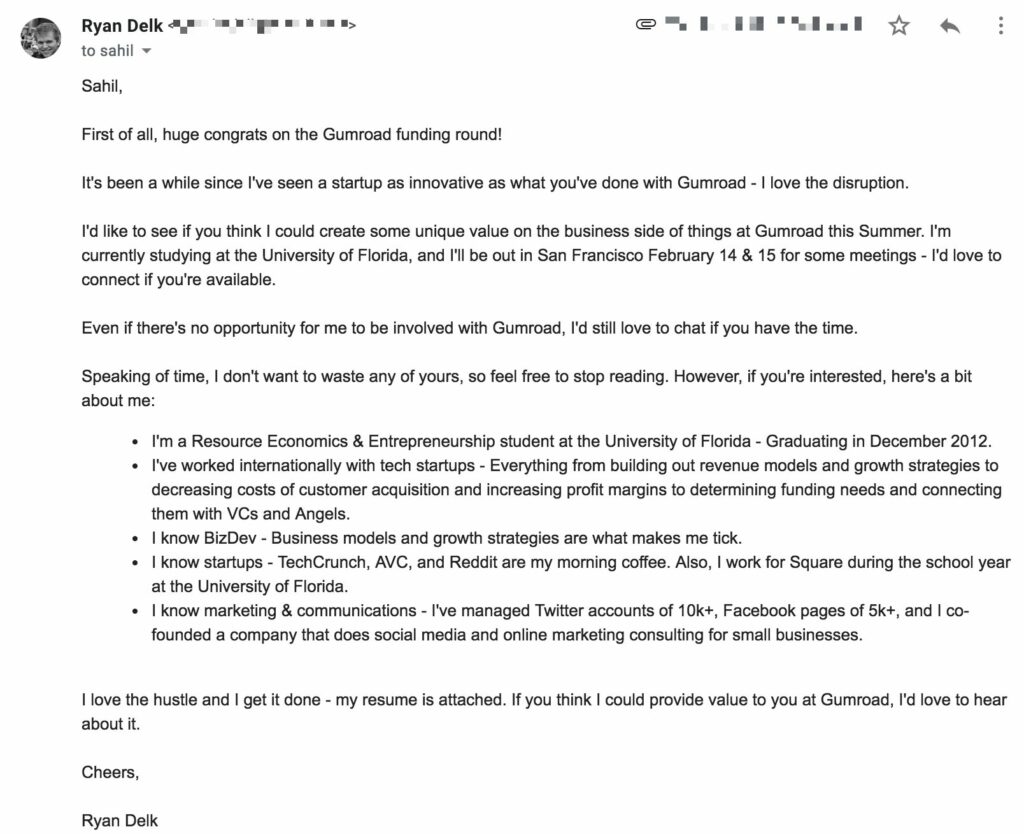 Cold emails done right have absolutely no downsides. They help you expand your network, build new personal connections, and polish your elevator pitch. You never know what opportunity might arise from a well-written and original email. So you better get to writing 🙂
More Tips for Candidates and Job Seekers