Remote work is the new normal, but being a remote boss isn't always easy.
Remote work has a lot to offer, but making the shift from in-person to work-from-home can create a new set of challenges. Perhaps you're finding difficulty in striking a balance between being there for your employees and overmanaging them, or maybe you're sensing a weakened company culture. If you're unsure how to proceed in today's increasingly virtual environment, don't worry! We'll go over some steps you can take to become a better manager and improve productivity, morale, and engagement in today's remote culture.
What Does Remote Mean?
In today's socially distanced society, as part of the COVID pandemic aftermath, many companies struggle to define remote work. One company's remote definition might be having all employees work completely from remote locations. Another employer might opt for a hybrid work model, where associates work remotely with the option of coming into the office when they feel like it or on designated days.
Perhaps now you're asking, "What is hybrid?" It's an emerging model that enables employees to work both remotely and in the office. For example, you might have your team work Mondays and Tuesdays in the office but spend the rest of the week working remotely. You could also let people work where they want, so those who prefer to work from home can continue to do so, and those who enjoy working in the office can come in.
Opting for a remote or hybrid work model can reduce or eliminate workers' commute times, boost productivity, cut office costs, and give workers the flexibility they need to find a satisfying balance between their personal and professional lives.
Common Challenges Of Remote Work
However, virtual work is not without its challenges. With little to no face-to-face interaction with your employees, creating a sense of camaraderie and company culture can be challenging. Previously high-performing employees might suddenly become distracted, overwhelmed, or less engaged at work, and newcomers might struggle to access information since they can't just pop by a coworker's desk to ask for advice.
Communication may suddenly break down, and workers may feel isolated and unmotivated. They may even feel like their needs are not being met, which can cause increased dissatisfaction with work and intentions to leave. With remote work, it's not uncommon for associates to have trouble setting boundaries between their personal and professional lives. All of these challenges easily lead to overworking and burnout.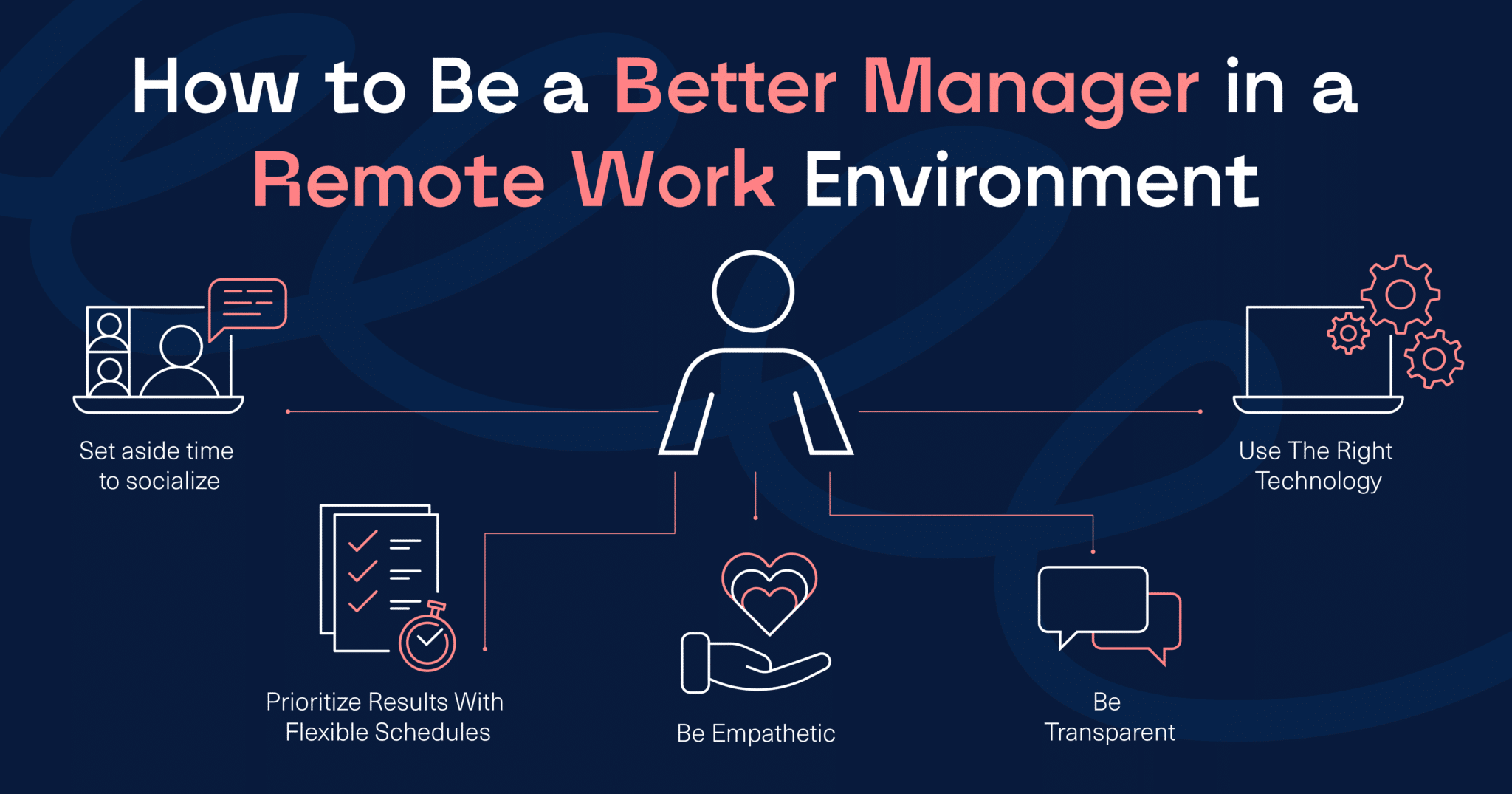 Supporting Remote Employees
Remote employees face everything from loneliness to a lack of access to information, so you need to be approachable, self-aware, sensitive, empathetic, up-to-date with the most effective technology, and willing to listen and make changes to help alleviate their challenges. More specifically, here are six things you can do to support your remote employees:
1. Set Aside Time For One-On-Ones
If employees only interact via emails and scheduled meetings, they'll feel disconnected. Prioritizing one-on-one time can go a long way towards helping them feel supported, so make sure to schedule regular video meetings to discuss everything from current projects and future career goals to hobbies and upcoming vacations.
Also, make sure that your employees meet with each other. Consider introducing coffee chats and social calls into your employees' weekly schedules, and don't forget to lead by example and use the first few minutes of meetings to catch up with one another.
2. Prioritize Results And Allow For Flexible Schedules
Gone are the days when the most important thing was having someone at a desk for eight hours a day. Instead, you should prioritize results over hours.
Since employees won't be in the same space anyway, it's time to give them the freedom to work when it's best for them. For example, an early bird might be most productive from 6 to 2, or someone with children might prefer to work while their children are at school, take a break in the afternoon and early evening, and finish up once the kids are in bed. By allowing employees to work at times that suit their lifestyles, you can boost their productivity and job satisfaction.
3. Be Empathetic
Don't make your employees' lives even more difficult by jumping to conclusions. Instead, put yourself in their shoes, and give them a break. You should also:
Ask your employees how they're doing:

Make sure to listen carefully to their responses!

Say thank you:

Saying thank you often won't solve everything, but it will help your employees feel like their work matters.

Remember that everyone is affected differently:

Everyone's circumstances are different, and you never know if someone has been dealing with a personal loss, financial problems, or depression.
4. Be Transparent
Consider creating and sharing project checklists to communicate what you expect of your employees and how you'll evaluate their work. Talk about their learning preferences, and make sure they understand that you're happy to help them! Some people might feel guilty about asking for help because you're at home, so you need to let them know you're ready and willing to help.
5. Use The Right Technology for Async work
Remote and hybrid work models involve a lot of async work. As the name suggests, async (asynchronous) work means that employees work on their own time without the expectation of immediately responding to others. To ensure your team is on the same page regardless of your remote work policy, you'll need to use a combination of communication technology options. You might use:
Video chat technology:

Technologies like Zoom or Google Hangouts will help your employees get to know one another in real-time. They'll be able to rely on visual cues during their conversations and get to know coworkers on a deeper level.

Chat apps:

Apps like Slack can help form or reinforce professional relationships and enable team members to ask questions, stay connected, and more asynchronously.

Email:

Emails are perfect for communicating essential, detailed information with external stakeholders.

Screen Recording:

Easily screen record and share with your teammates with video recording software such as Loom.

File-Sharing:

Sharing files with your team (and clients!) has never been easier with software such as Notion, Google Drive, and Box.

Relationship Management:

Improve business relationships with technology that can manage all of your company's relationships and interactions with clients from a central dashboard. Think: customer relationship management (CRM) such as Hubspot and Salesforce, as well as applicant tracking systems (ATS) such as Lever and Greenhouse.
6. Develop Systems And Documentation
Taking the time to develop thorough documentation and internal systems now can save you time and frustration later. If you offer clear guides, solutions, and policies, workers will no longer have to hunt through countless files or message colleagues to find documents, get answers, or complete tasks.
Grow Your Team With Us
Behind every great team is a great leader, but being a great leader in a remote environment takes a lot of work. Betterleap can help with that! Sign up today to set yourself up for success!