Recruiting passive candidates isn't easy, but it's worth the effort. Here's how you can effectively tap into the passive talent pool.
When it comes to recruiting, there are two types of candidates: active and passive. Active candidates are actively looking for a new job and are easier to find. But did you know that they only make up 30% of the global workforce? That means you're missing out on a ton of top talent when you don't target passive candidates — those who aren't actively looking for a new opportunity. Not only are these candidates 17% less likely to require skill development opportunities than their active counterparts, but they're also 120% more likely to want to have an impact on their organization. Plus, they're already successful at performing a similar role, so you know they're presumably already a strong fit for the position.
Finding and successfully recruiting currently employed candidates can be more challenging than hiring active talent, but it's not impossible. Passive candidates are often willing to take on a new position if the opportunity is better than their current position. In fact, 99% of employed professionals would be open to interviewing if approached, and 89% are open to new job opportunities.
So, how can you effectively recruit passive candidates?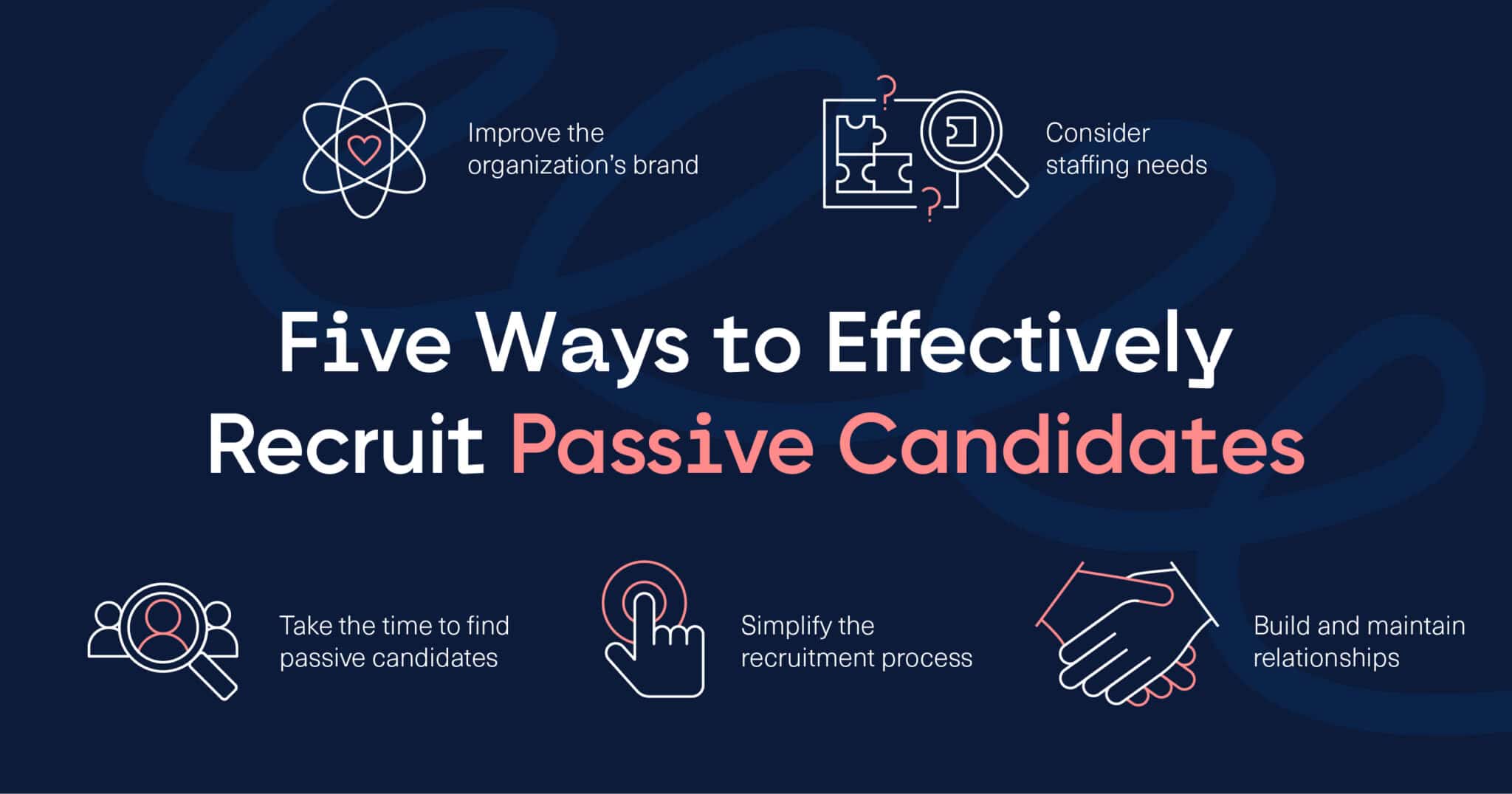 1. Improve Your Client's Brand
No one wants to work for a company that doesn't treat its employees well — especially not a passive candidate who is already employed and comfortable. To successfully persuade someone to leave their job, you'll need to convince them that the new employer provides a great place to work. By highlighting the company's values, work-life balance, benefits, and career advancement opportunities, you can improve your chances of hiring a qualified candidate three-fold.
Fortunately, you don't have to resort to old-fashioned tactics like posting fliers, purchasing billboard space, or running ads on the radio or television to get the word out. Instead, make sure the company has an updated mobile-friendly website and social media accounts to highlight its brand.
2. Consider Staffing Needs
When you're looking for a candidate, it goes without saying that you'll need to understand the organization's current staffing needs, which means identifying current knowledge and skill gaps. 
You'll also want to consider projected staffing needs when deciding which passive candidates to target for an open position and which relationships you should focus on building for the future. Take into account average turnover rates, the organization's strategic plan, and retirement.
3. Take Your Time to Find Passive Candidates
Passive candidates won't be emailing you their resumes, so sourcing them can be tricky and require some proactive work on your part. To start, consider areas where professionals naturally spend their time, like professional associations, conferences, hackathons, networking events, and industry-specific job boards or blogs.
You can also turn to portfolio websites, employee referral programs, sourcing tools, or social media platforms, such as:
LinkedIn:

With an advanced people search tool, recruiter subscriptions, and a direct messaging feature, LinkedIn makes discovering candidates — and reaching out to them — easy. 

Facebook and Instagram:

Facebook isn't just for relationship statuses, and Instagram isn't just for artsy photos. They can also be valuable tools for recruiters thanks to their search and direct messaging capabilities. Plus, you can promote job openings, positive changes, or new company updates on the company's profile to attract candidates.

Other platforms:

Depending on the candidate demographic and company brand image, you can also explore platforms like Quora, Twitter, Reddit, or Snapchat.
4. Simplify The Recruitment Process
You'll need to keep the interview process as efficient and flexible as possible. A scheduling tool can ensure interview times work on both ends while eliminating the need to email back and forth. Taking interviews online via Zoom or phone calls can save your candidates the hassle of attending in-person meetings while they're still learning about the position.
5. Build And Maintain Relationships
An estimated 65% of candidates lose interest in jobs due to bad interview experiences, so don't pitch the job immediately or expect these passive candidates to have thoroughly researched the company. Instead, take the time to understand their career goals, priorities, and current situation. You can also send targeted marketing materials or host happy hours so they can learn more about the organization.
Make sure to follow up with candidates without spamming them. If it turns out that this isn't the right position, or now isn't the ideal time, stay in touch and keep them in mind for future roles that more closely align with their goals.
Recruiting The Right People For The Job
Passive candidates are often more qualified than their active counterparts, so putting a little effort into recruiting them can pay off in the long run. These tips are a great starting point for successfully tapping into this overlooked talent pool, but there are plenty of other best practices you can employ.
Discuss with other recruiters and discover more strategies on improving your recruiting methods over on the Independent Recruiter Life community board.