Starting an independent recruiting agency will give you freedom, flexibility, and unlimited potential earnings, but it won't be easy. Here's what you need to know.
Entrepreneurialism was expected to increase in 2015, and by 2018, over 57% of Americans were participating in the gig economy. Many recruiters have started their own agencies due to the lack of income inequality, job security, and opportunities for growth combined with the long, inflexible hours and limited earnings within traditional companies.
While traditional recruiters work the typical 9-5 (or longer!), attend check-the-box meetings, fend off workplace distractions, and tackle problems according to stringent company rules, independent recruiters have total control over their business. As a result, they can prioritize a work/life balance while achieving productivity in the best way that works for them.
Independent recruiters also enjoy a higher earning potential. Instead of working on a draw or base salary and losing a large percent of placement fees to their firms, they're compensated more fairly for their work. Plus, while traditional recruiters must focus on assignments from their company, independent recruiters are free to concentrate on work that will maximize their earnings, such as filling tech roles based in high-cost-of-living areas. But the big question remains. How does one go independent?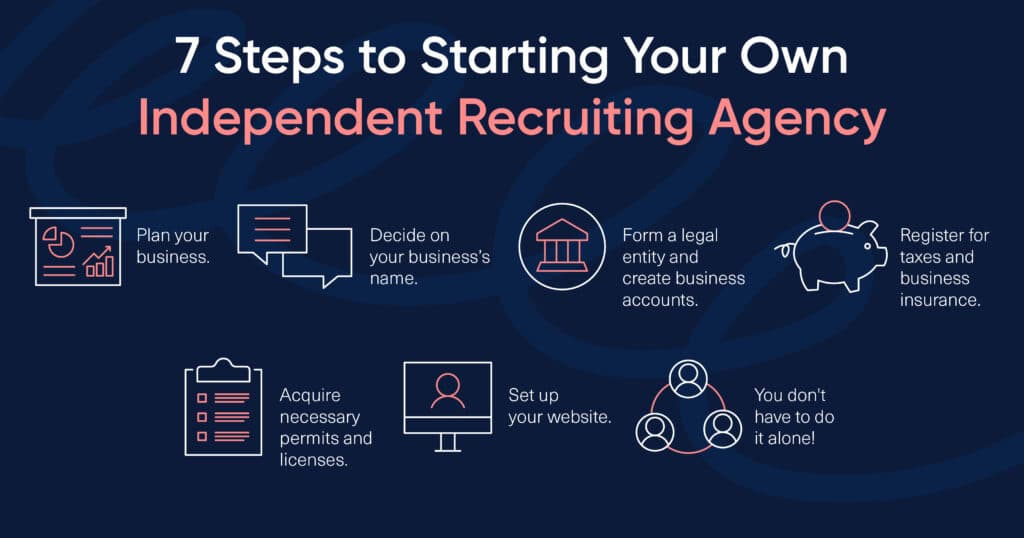 The Steps to Going Independent
Becoming an independent recruiter is worth the effort, but it isn't easy. You'll need to:
Plan your business:

Not only do you need to understand your startup costs, but you also need to know your ongoing costs, your target market, and your rates. Take everything from your business license to your internet expenses into account, and don't forget about finding the perfect place to work! You may need to rent an office, renovate a room, or sign up for a coworking space.

Decide on your business's name:

Sounds simple, right? Unfortunately, even if you think you have the perfect name in mind, you'll need to check your prospective business, product, and service names against the

official trademark database

, maintained by the United States Patent and Trademark Office.

Form a legal entity and create business accounts:

Creating a legal entity, such as a

limited liability company (LLC)

, will ensure you aren't held personally liable if someone sues your recruiting agency. Likewise, opening business banking and credit accounts can protect your assets. You'll also be able to apply for credit cards and loans under your business's name, access higher credit lines, and receive better interest rates!

Register for taxes and business insurance:

Before you can start accepting clients, you'll need to register for taxes and

apply for an employer identification number (EIN)

. You'll also need to keep track of your expenses and income sources throughout the year, and you'll want to get business insurance to protect your agency.

Acquire permits and licenses:

If your independent recruiting agency doesn't have the necessary permits and licenses, you may find yourself facing fines or even forced closure! Make sure to review any state and local requirements.

Set up your website:

When it comes to promoting your brand and marketing your agency's services, a well-designed website is one of the most powerful tools in your toolbox.
The Challenges Of Being An Independent Recruiter
The challenges of being an independent recruit don't end once you've set up your business. Finding clients can be tricky because you probably can't work with any clients you had at your previous agency. You'll need to start marketing yourself and actively searching for and pitching to new companies. A great website will improve your chances of locking down clients, but it's no guarantee.
Plus, even when you do find a client, you may face more trouble at payment time — especially if you don't have a contract in place. Too many clients drag their feet or try to avoid paying commission fees by engaging in underhanded tactics.
Another challenge is simply a lack of experience. Excelling in a corporate setting does not equate to effortlessly thriving in the independent recruiting arena, because the independent work goes beyond making placements. Not only will you have to market your services, but you'll also need to handle your invoices, troubleshoot technical issues, create contracts, and keep track of your business's finances.
On top of that, you'll need to do everything else you normally would, such as networking with job seekers, refining job descriptions, conducting interviews, and making offers. It can quickly get overwhelming and lonely.
The good news is that Betterleap solves many of these problems. With Betterleap, you'll be able to set up a beautiful profile page and receive leads to build and expand your client base. Sign up today to learn more.