"…people won't remember every day they worked for your company, but they will surely remember the day you laid them off. They will remember every last detail about that day and the details will matter greatly." (The Hard Thing About Hard Things, Ben Horowitz)
Layoffs are a painful yet sometimes necessary part of running a business. In recent weeks and months, we've been seeing a new round of layoffs at leading tech companies. Whether it's pivoting, adjusting to a new business model or right-sizing the workforce to manage the implications of overhiring in a turbulent market, layoffs sometimes have to happen for the company to survive in the long run. But.. there are better and worse ways to do layoffs.
We've all heard stories like Better's, where the CEO fired hundreds of people via Zoom call, and how it turned into a PR nightmare and left a lot of employees in the blind about their situation. We've also heard about how Airbnb's Brian Chesky laid off employees in such a thoughtful, compassionate way that left current and departed employees with huge respect towards leadership.
Handling layoffs in a human, transparent and generous way is the only way to do it right. Every detail of how you handle layoffs will matter after the fact, and employees that stay will care a lot about how you treated their colleagues. I'm going to break down a few things that Airbnb did right when they conducted layoffs in 2020 and share some layoff communication best practices.
Let's dig a little deeper into Brian Chesky's message to employees, and see what he did really well to share these tough news with the team.

Layoffs Communication Best Practices

1. Be Direct
When communicating layoffs to the team, be direct and define reality. Laid off employees need to know what's happening as soon as possible so that they can prepare for whatever is coming their way.

2. Be Transparent
Layoffs create a major trust issue between leadership and employees. To function well as an organization post-layoffs, you need to rebuild trust and admit where things went wrong. Show people the reality of the business performance and explain why the layoffs are necessary. Business strategies change, revenue drops, investors decline to back your next funding round, markets shrink…not every layoff happens because of a historic crisis like COVID-19, but there's always an explanation. Be transparent with data, to whatever extent possible.

3. Be Empathetic
It's important for hiring managers to understand that layoffs take a huge toll on employees' mental health and cause serious financial instability so it's important to stay focused on people behind the numbers. Show people that you care with actions. When creating your communication plan and layoff package, come from a place of empathy to people who are about to lose their paychecks and might be feeling depressed, anxious, or traumatized.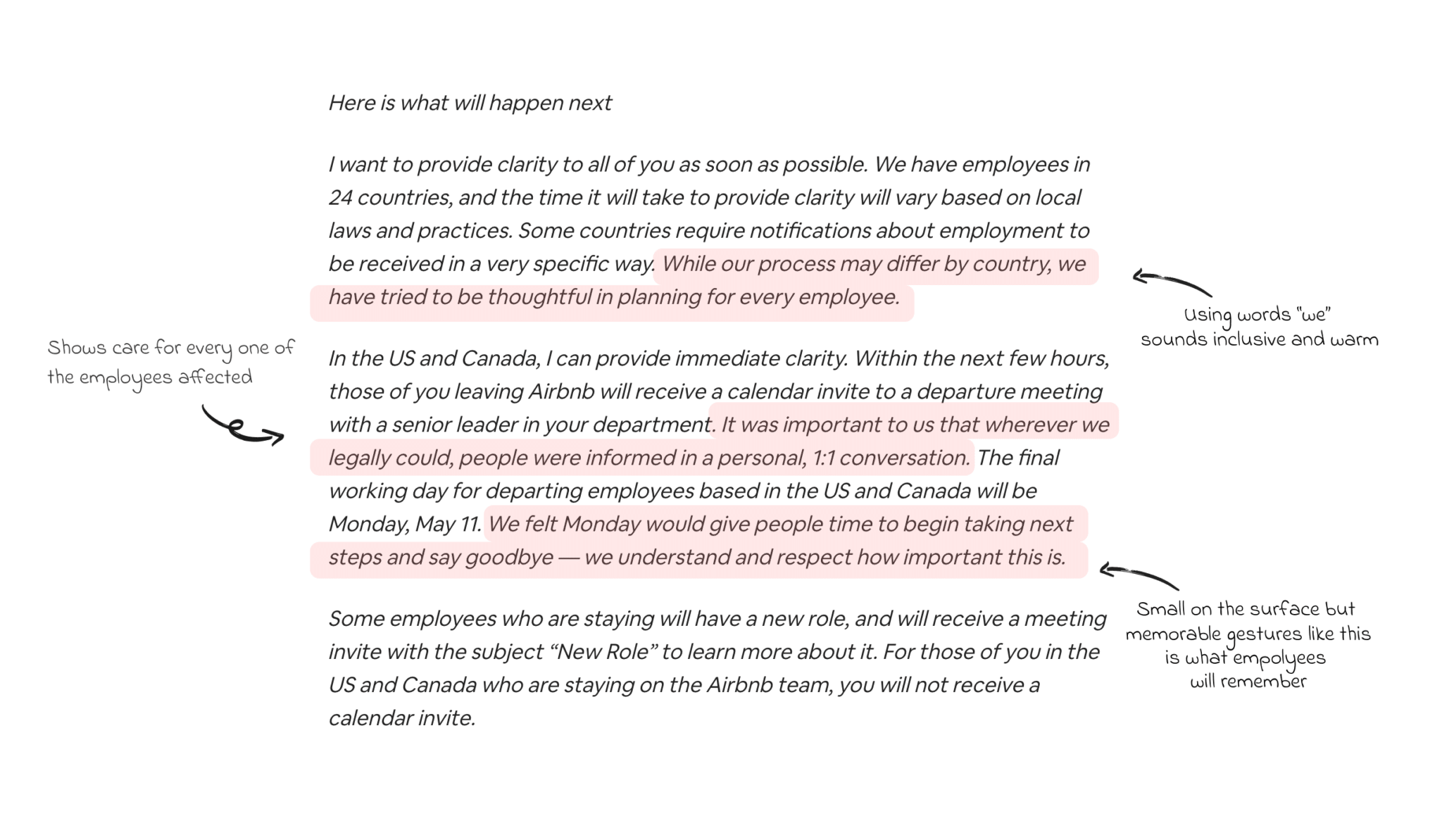 4. Be Compassionate
Getting laid off is one of the toughest, most abruptly challenging moments in a person's professional life. Even if the layoff was not performance-related, being let go by an employer can shake people's self-confidence and cause them to question their identity.
A compassionate approach to layoffs might include: additional support for job outplacement, free counseling resources, extended employer-provided health insurance, and so much more.

5. Be Generous
Airbnb offered all laid-off U.S. employees 12 months of health insurance coverage through COBRA, four months of mental health support, 14 weeks of base pay plus one extra week for each year of service at Airbnb, dropped the one-year equity vesting cliff, making everyone a shareholder, even if they were hired within the past year. And the list goes on…
Be generous to the people who are being let go. Minimize the impact to people's bank accounts and help them get on track for their next opportunity as soon as possible. Not only is this the right thing to do, but it shows your remaining employees that the company is confident about its financial future. If you're being stingy with severance packages, this could be seen as a bad sign for the company's prospects.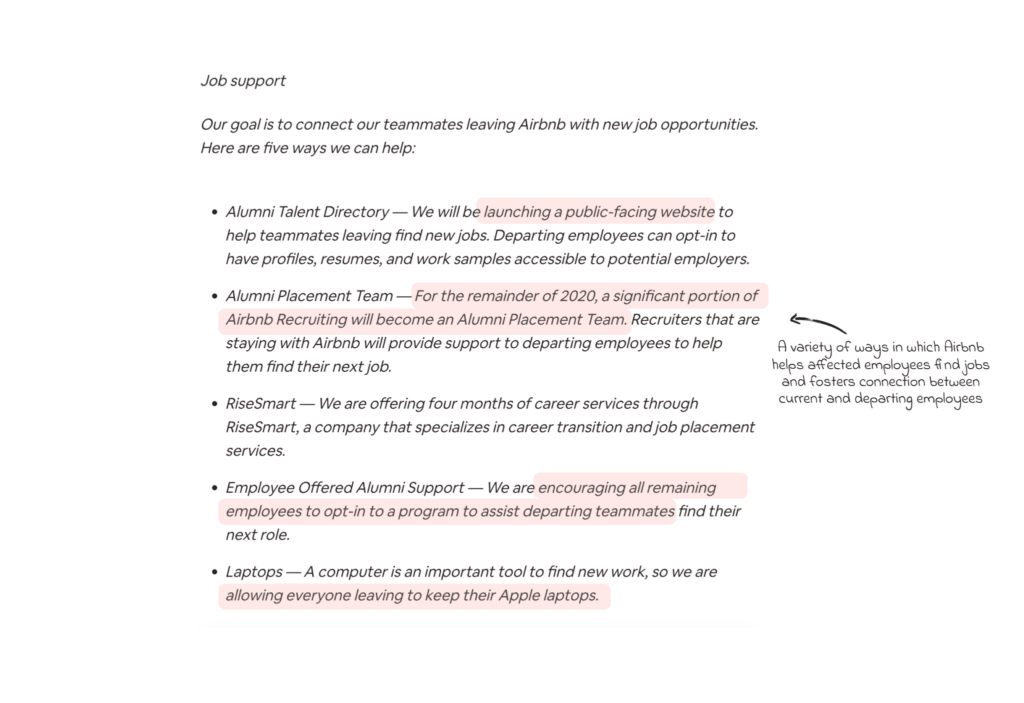 6. Be Available
After announcing the layoffs, make yourself available for Q&A sessions and all-hands meetings. Give everyone time to process things, react and respond with questions in the aftermath of the layoff announcement. Be extra patient with your employees and give them the opportunity to feel feelings and vent frustrations. People might have some harsh feedback for the company, and it's important to hear their relevant concerns. Use this as an opportunity to become a better leader and build a stronger team.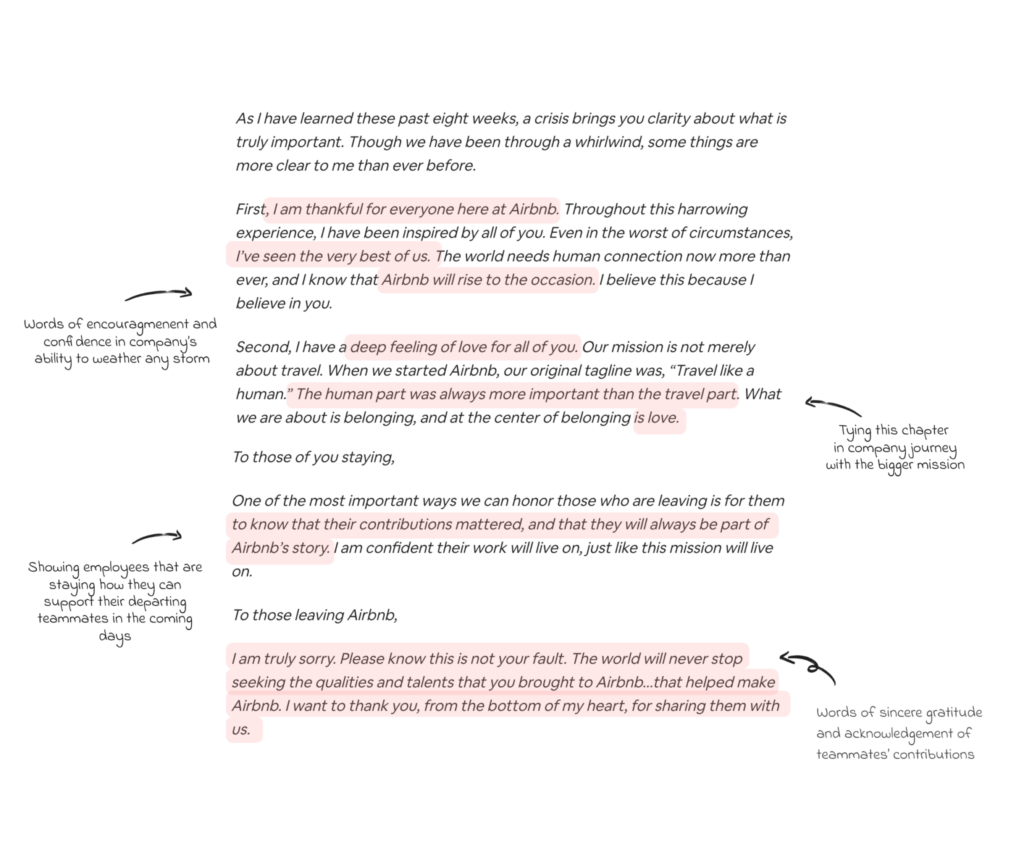 7. Be Grateful
When people join your company, it's a massive vote of confidence and an act of trust. Show departing talent your appreciation and encouragement. Remind them of all the great skills they have, and how they still have many great career moments ahead.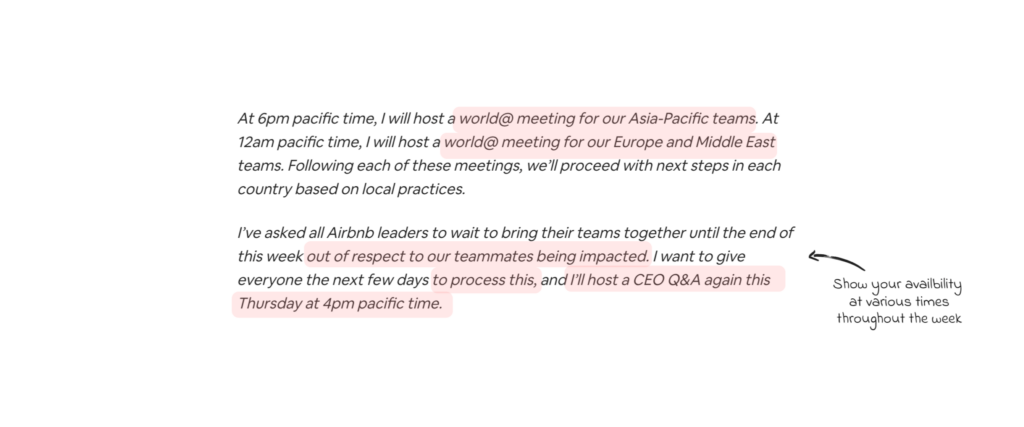 Especially during tough times like layoffs, company's leadership needs to raise the bar in supporting their departing teammates and do more than they thought possible to support people and build trust. Be generous. Treat people the right way.
The way you handle layoffs is a reflection of your overall culture, company principles, and compensation practices. If your company handles layoffs with transparency, compassion, and generosity, you'll be more likely to inspire trust, respect and loyalty from the team – and continue to be a destination for top talent.
More Resources about Layoffs