We're excited to announce that Betterleap now includes ATS integrations for recruiting teams to be more efficient and collaborative.
We get it – as a talent acquisition specialist at a high-growth startup, you have a lot of open roles that you'd love help filling. But manually posting every role and keeping every recruiter updated about their submitted candidates can feel like a lot of work. With our new integrations, you can easily:
Import your active roles directly to Betterleap
Automatically update recruiters about their candidates' progress through your hiring pipeline
Check out all of the cool details about our ATS integrations below 👇

You'll now see a Connect your ATS button in the top corner of your dashboard. Just click the button, follow the instructions, and update your ATS permissions – simple as that 😎.
Publish your active roles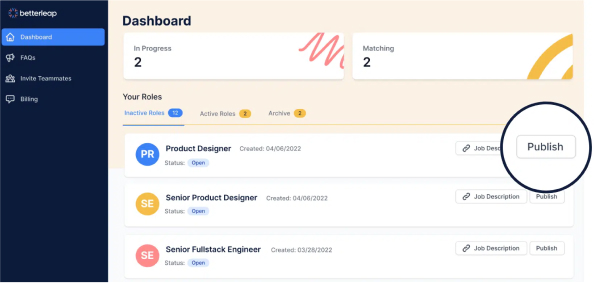 Once you have connected your ATS, all of your roles will be imported into Betterleap. Now, all you have to do is click publish to match your role with a specialized recruiter ⚡️.
Get candidates directly in your ATS
Once the recruiter we match you with submits candidates through Betterleap, they'll be automatically added to your ATS. You will also get an email notification with a detailed candidate writeup from your recruiter.
Faster candidate turnaround
Say goodbye to your constant back and forth with recruiters, updating them about their candidates. Now, your recruiter will know exactly when their submitted candidates move forward in the hiring process or have been rejected. This allows you and your recruiter to be in sync about the candidates and provide a better candidate experience throughout.
As always, we're super excited to continue building new features that help you navigate the ever-changing recruiting world. Stay tuned for some exciting stuff coming soon!