Diverse workforces offer countless benefits, but it's not always easy to attract diverse talent — especially if a company's current workforce isn't already inclusive. Here are some ways to change that.
Having a diverse workforce is essential these days. Not only is it a deal-breaker for 76% of job seekers, but ethnically- and gender-diverse companies are more profitable than their more homogeneous counterparts.
The benefits of having a diverse workforce are endless. However, the less inclusive a company's current workforce is, the more challenging it will be to attract top, diverse talent. It's a vicious cycle, as 41% of Black job seekers and 41% of LGBTQ+ job seekers won't even apply to companies that lack noticeable DEI (Diversity, Equity, and Inclusion) efforts. Luckily, there are ways to improve on that. But first, let's go over what diversity recruiting is.
What Is Diversity Recruiting?
The workplace should consist of people that reflect society, so that means forming a team of individuals that span across different ages, genders, races, religions, sexual orientations, cultures, abilities, educational backgrounds, and socio-economic levels.
Diverse workforces result in different perspectives, increased productivity, improved decision making, lower turnover rates, more successful marketing efforts, higher levels of employee engagement, and more creativity. In fact, inclusive companies are 1.7 times more likely to drive innovation. Plus, research shows that they outperform those with less diversity by 36%.
Sounds pretty good, right? Unfortunately, finding and recruiting diverse talent isn't exactly a walk in the park. To recruit more effectively, you'll need to employ merit-based strategies that lack biases for or against groups of candidates.
Here are our top seven tips to help you refine your strategies: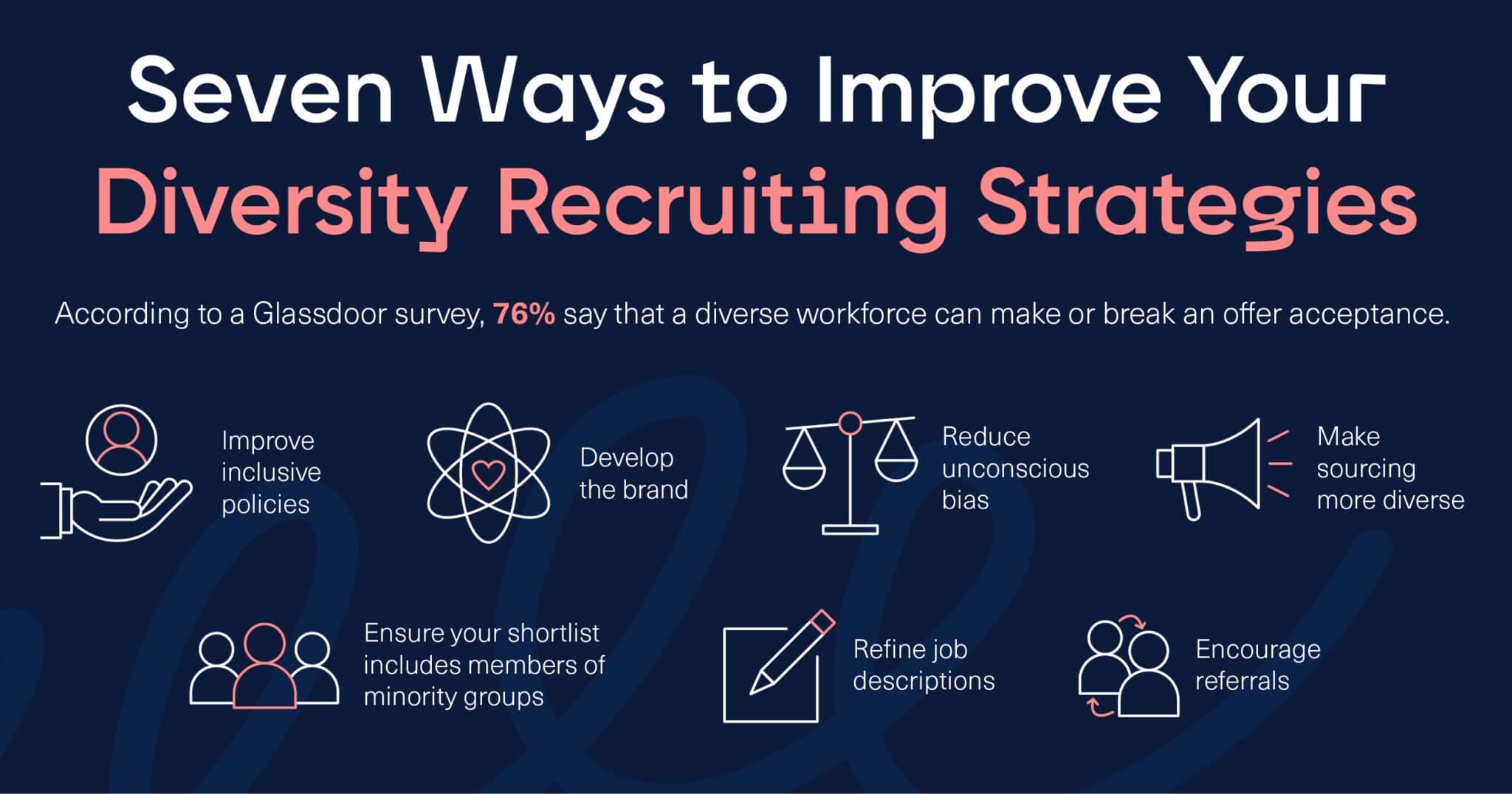 1. Improve inclusive policies
As an independent recruiter, you may not have control over your client's DEI policies. However, you can let them know that having these policies can make all the difference when it comes to attracting and retaining top candidates. Simple things like offering flexible hours, allowing employees to take religious holidays off, and encouraging people to speak up about problematic existing policies can go a long way towards building a team of diverse talent.
2. Develop the brand
By developing your client's brand, you can showcase their DEI efforts and help them gain recognition as a diverse employer. Consider posting images that reflect their inclusivity, Employee Resource Group activities, and diversity awards on social media. Also, make sure to talk about any DEI efforts during interviews.
3. Reduce unconscious bias
Did you know that hiring managers pass over Black and Latinx-sounding names at a higher rate than White-sounding names? You may not be paying attention to your natural biases, so the first step to avoiding that is to undergo unconscious bias training.
Consider building a diverse interview panel. Not only do candidates want to see diversity on the company site, but they also want to connect with diverse interviewers. You can also use AI to review resumes or blocking out personal information like names, schools, zip codes, and dates of birth can also help remove bias. Similarly, psychometric tests will let you assess candidates' personalities, abilities, skills, and knowledge without being influenced by their background. Another good practice is to refer to the candidate as "the candidate," or "TC" for short, when writing interview feedback. Even with these "blind" methods intact, people tend to hire individuals like themselves, so having a diverse interview panel will add another layer in removing that unconscious bias.
It's also crucial to eliminate bias during the offer stage. Don't lowball offers to women or people of color because you think they'll accept it. Instead, make offers that reflect the candidates' value, skills, and experience.
4. Make sourcing more diverse
Try posting the job on popular job boards like Indeed and targeted job boards like Black Career Network. You can also add a job listing to specific social media groups, such as Facebook groups for international students or LinkedIn groups for LGBTQ+ people in business. Working with cultural organizations and attending career fairs for minority student groups, veterans, and individuals with disabilities will also help you expand your reach. You can also look into partnering with Historically Black Colleges and Universities (HBCU) and women's colleges.
Ensure your shortlist includes members of minority groups
If you only have one person from a minority group on your shortlist, they'll have almost no chance of being hired. Researchers believe this phenomenon occurs because having just one person with a unique trait makes decision-makers warier. After all, it's human nature to stick with the norm. To reduce this bias in the recruitment process, look for more qualified candidates from that minority group.
6. Refine job descriptions
From the language you use to the ideas you include, job descriptions can attract some candidates while alienating others. To encourage women and non-binary people to apply for the job, avoid gender-specific words by replacing them with gender-neutral terms. For example, use salesperson instead of salesman.
If the job description currently has a long list of requirements, think about which ones really matter. Does the job need to be filled by someone with ten years of experience, or will someone with six be able to thrive? Do candidates really need a perfect GPA from a top college? Keep in mind that some requirements aren't actually requirements.
7. Encourage referrals
Using the company's existing employees' networks can also lead to a more diverse workforce. Employees often know people with similar backgrounds, so encouraging referrals can increase the diversity of your talent pool.
Building A More Diverse Workforce
To effectively build an inclusive workforce, you'll need to take concrete steps toward reducing your natural biases and sourcing more diverse candidates. We've given you several tips for getting started, but we haven't covered every potential strategy for improving your recruiting strategies. More tips below: