Recruiting isn't easy, but by understanding the most common challenges recruiters face (and how to get past them), you can stay ahead of the competition and find the best candidates for your clients.
Finding great candidates has never been easy — pandemic and employee's market or not. Even in 2016, 62% of recruiters found their jobs more challenging than the previous year.
To stay ahead of the competition and find the best candidates for your clients, you need to prepare for recruitment challenges, understand how to avoid hiring mistakes, and be ready to make any necessary changes to attract and hire top talent.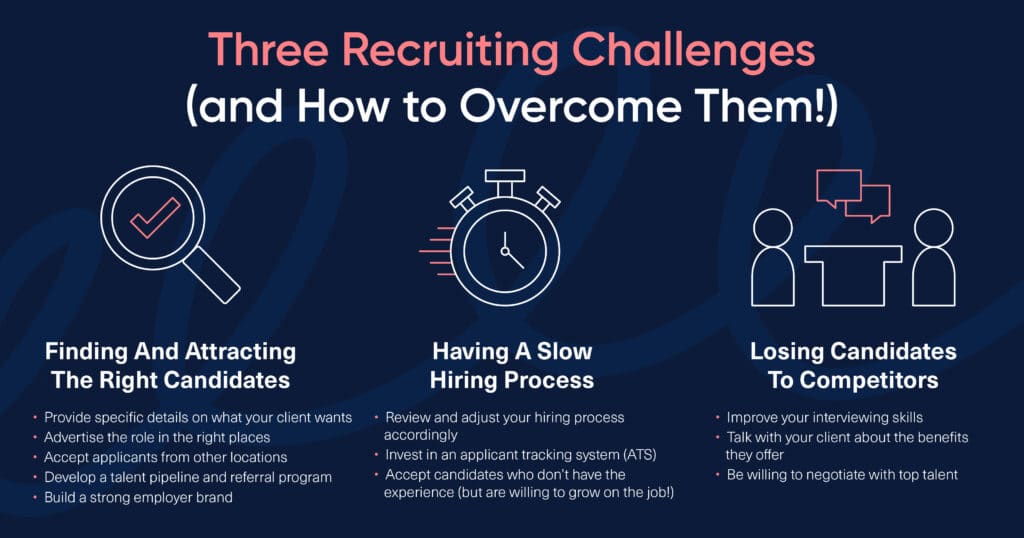 What Are The Challenges Of Recruitment?
Here are some of the most common recruiting challenges and how to overcome them:
1. Finding And Attracting The Right Candidates
There is a sea of job seekers out there, but most won't be qualified for the position you're filling. Casting your net too wide can be a huge time-waster, but if you're waiting for the perfect candidate to fall into your lap, you might be waiting for a long time. Luckily, there are a few ways to make your life easier. Make sure to:
State all requirements:

To avoid receiving applications from unqualified candidates, make sure to provide specific details on what your client wants. If they're hoping to hire someone with a degree, a certification, or a certain amount of experience, make sure to include that information in the

job description

to avoid wasting everyone's time.

Advertise the position in the right places:

Don't just advertise the role on your client's website! Post the job on other websites to increase visibility. After all, most qualified candidates out there aren't checking your client's career site every day — some may not even know about your candidate yet! — but they'll probably sign into LinkedIn a few times a day. Consider posting to industry-specific websites or communities, attending job fairs, or sharing openings on social media.

Accept applicants from other locations:

When you limit the search to local applicants, you're missing out on countless qualified candidates who would be happy to telecommute. Even if your client requires workers to go into the office, you should still consider applicants from other locations. Many people would be willing to move for the right fit.

Develop a talent pipeline:

Using talent pipelines, or curated groups of candidates you've already engaged with, can help accelerate your hiring process because you won't need to re-screen these candidates. Also, work with your client to develop or improve their employee referral program, and don't forget about

passive candidates

!

Build a strong employer brand:

If your client has a strong

employer brand

, job seekers might come to you! Help your client share their employees' stories on social media and clean up their online reputation to get candidates excited about life at your client's company.
2. Having A Slow Hiring Process
Nothing kills a candidate's interest like an inefficient hiring process. On average, it takes 36 days to hire someone, but candidates want shorter time-to-hires. In fact, 17% of Gen Z candidates expect an offer within a week of their first interview. Plus, top candidates are only on the market for days before being hired, so you need to extend offers quickly to keep candidates and clients satisfied.
To maximize your time and speed up the hiring process, consider:
Reviewing your hiring process:

It can be all too easy to fall into old habits and stick with the same hiring process because that's what you've always done, but it's a huge mistake! Candidates are changing, and so is technology. You need to review and adjust your hiring process accordingly. You may find that you don't need certain hiring stages anymore or that there's a more efficient way of performing specific tasks. For example, you can use online assessment tools to learn about attitude and technical knowledge instead of setting up a lengthy interview. You'll be able to quickly eliminate applicants who aren't right for the position, saving everyone time.

Investing in an applicant tracking system (ATS):

In addition to storing all your candidate data in one place, an ATS can give you reports, integrate with your calendar and scheduling tools, and enable you to send customizable thank you notes to applicants. You'll be able to streamline the hiring process and improve candidates' experiences all from one dashboard.

Accepting candidates who don't have the experience:

Work experience is important, but it's not the end all be all. You want to find candidates who are ready to work and grow on the job, so don't be afraid if your candidate doesn't have ten years of experience in their field. If you wait too long thinking about how much experience your candidate has, a competitor may just snatch them up!
3. Losing Candidates To Competitors
Another recruitment challenge is losing candidates to the competitors. There are only so many qualified candidates. Plus, every company wants to find a qualified person who will fit in with their company culture, so recruiting is easier said than done.
In addition to building a strong employer brand and accelerating the hiring process, you'll need to:
Improve your interviewing skills:

First impressions are important, and the interview is a deciding factor for many candidates fielding multiple offers. In fact,

65% will lose interest

in a job if they have a negative experience, so you need to bring your A-game. You should:

Ask behavioral-based to measure their soft skills and culture fit.

Provide details on their future responsibilities.

Give a tour of the office.

Introduce them to future co-workers.

Stay in touch after the interview with updates.

Talk with your client about their benefits:

Even the best interviewing skills won't help you fill a role if your client doesn't offer what workers want. Let your client know that most job seekers want paid time off, health care coverage, flexibility, opportunities for growth, and competitive salaries.

Be willing to negotiate:

Since job seekers know what they're worth, they're often not willing to settle for a job that doesn't meet any of their requirements. You and your client should be willing and ready to negotiate if you want to hire top talent.
Take Your Recruiting To The Next Level
Recruiting is hard work, and even the best of recruiters have room for improvement. In addition to being open to changing your strategies and following the advice above, one of the best things you can do to is simply your tools and automate recruiting tasks that can be automated.
Betterleap is a powerful sourcing and outreach tool that can not only help your find talent in any specialization and location but also put your entire sourcing process on autopilot with the sourcing copilot. Learn more about how to 10x your productivity as a recruiter from our case study.
More Resources for Recruiters