Virtual interviews are the new normal, and taking the time to brush up on best practices now will give you the competitive edge later.
We live in such a digital world (hi, pandemic) that 86% of organizations incorporated new technology to interview job candidates due to the COVID-19 pandemic. What's more, 93% expect to continue using virtual interviews moving forward.
Virtual recruiting is here to stay. So, you need to take the time to brush up on best practices now if you want to have the competitive edge when it comes to interviewing and hiring virtually.
The Challenges And Benefits of Virtual Recruiting
Virtually interviewing and hiring candidates isn't an easy feat, especially if you're pivoting from years of in-person experience. For many recruiters, video interviews are a relatively new concept. Some may find setting up equipment awkward or frustrating. Technology can sometimes turn unreliable. You may also find difficulty properly evaluating candidates, incorporating personal touches throughout the virtual process, reading body language, or administering skill tests. It could also be difficult to communicate the company/team culture virtually.
On the other side of things, a lack of technological knowledge or reliable wi-fi can put some candidates at a disadvantage. This is especially true with lower-income candidates who can't necessarily afford the fastest broadband speed or the best webcam.
On top of all that, you may have to worry about background bias. Just as you might judge a candidate based on their clothing choice, you might form an unconscious bias based on their home or whether they have children bursting through the door mid-interview.
However, these bumps in the road are often worth it. Virtual interviews can still help you get to know candidates while adhering to social distancing guidelines and allowing for more flexibility and cost savings. You may also benefit from:
Shorter time-to-hire cycles

Increased stakeholder presence during interviews (include more team and hiring manager input earlier on)

The ability to interview more candidates in less time

The ability to interview geographically diverse candidates, such as those who wouldn't normally travel for an interview or those your client wouldn't be able to fly in for one
Types of Virtual Interviews
Instead of scheduling in-person interviews, many recruiters now conduct live video interviews over Zoom, Skype, Microsoft Teams, or Google Meet. Live video interviews allow recruiters to directly interact with candidates in real-time from a distance.
You can also use one-way video interviews. These interviews are used for preliminary screenings early in the hiring process. In fact, they're often the first point of connection, as they assess candidate fit and qualifications. Unlike live video interviews, one-way video interviews aren't meant to replace face-to-face interactions. Instead, candidates will record and submit their answers to standardized questions on their own time.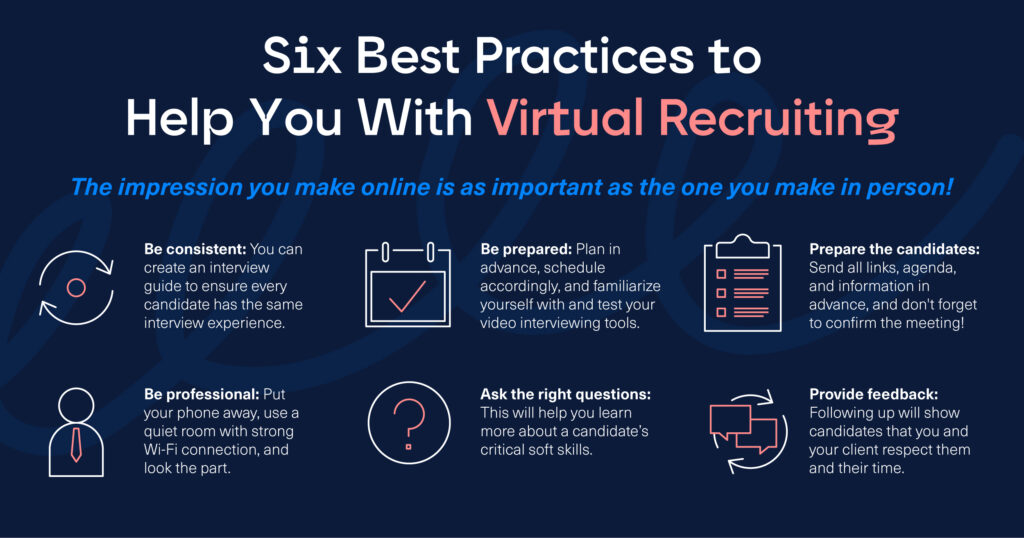 Six Best Practices for Conducting Virtual Interviews
The impression you make online is as important as the one you make in person, according to 65% of professionals. So, you need to put your best foot forward in these virtual interviews. Start by following these virtual hiring best practices:
Be Consistent
Ensure every candidate has the same interview experience by creating an interview guide. In this guide, you can include who initiates the call, who's in attendance, and whether all the interviews will be virtual or if candidates, at a later stage, will have an in-person interview.
Be Prepared
Accidents happen. Technology sometimes fails. However, by familiarizing yourself with and testing your video interviewing tools and equipment beforehand, you can reduce the chances of mishaps, giving candidates a better first impression of your client. If you need to, schedule a practice interview to gain familiarity with the software. You should also ensure there aren't any scheduling overlaps, plan the interview structure in advance, and print out the job description and client's resume.
Prepare Your Candidates
43% of candidates find video interviews more stressful than in-person ones, so you need to make them feel as comfortable and natural as possible. You should:
Send candidates links to the video conferencing tool in advance

Share the LinkedIn profiles of any team members who will be on the interview

Let candidates know if they'll need to solve a problem during the interview

Share any information about the company's culture (such as a virtual office tour or videos of company events)

Send an interview agenda

Confirm the meeting
Be Professional
Just as you wouldn't check your phone in an in-person interview, you shouldn't check it during a virtual one. Put your cell away or on vibrate. If you're in the office, set your desk phone to DO NOT DISTURB before the interview begins and lock your office door or put a DO NOT DISTURB sign on your door.
If you don't have a home or work office to interview from, use a quiet, clean, adequately lit area with a strong wi-fi connection. If necessary, import a picture of an office as your virtual background.
Make sure to dress professionally, place your laptop at eye level, sit up straight, smile, speak a little slower than you normally would, and maintain eye contact.
Ask the Right Questions
Virtual interviews are a great time to ask questions that will help you learn more about a candidate's critical soft skills. You might consider asking:
What excites them about the role and team to assess how passionate your candidate is about contributing to your client's mission and projects.

How they stay productive while working remotely (if the position is remote) to learn about how they might handle the lack of structure that comes with remote work and whether they'll be able to stay organized, motivate themselves, and maximize their productivity.

About a time they disagreed with management about a process to evaluate if they will be able to respectfully share their opinions to improve internal operations.

How they overcome problems at work to see if they can troubleshoot challenges or are proactive about asking for help.
Provide Feedback
Candidates want to hear from you, whether they got the job or not. Following up will show that you and your client respect them and their time. Providing feedback can improve the candidate's experience, boost your client's brand, and ensure you aren't giving your candidate false hope.
Refining Your Virtual Interviewing And Hiring Practices
Today, virtual interviewing is practically a necessity, but it doesn't come naturally to every recruiter. You may need to put in a little effort into developing and refining your virtual interviewing and hiring skills now so you can reap the benefits later.
In the meantime, why not network and discuss virtual recruiting strategies with like-minded recruiters? Head on over to the Independent Recruiter Life community Slack board and get the conversation started!