As a recruiter, you're most likely working with people from all generations. Millennials tend to have a different approach when it comes to the workplace, so here's everything you need to know.
As a recruiter, you need to pay attention to who you're recruiting and what they want — especially when it comes to recruiting millennials. Millennials are already a critical part of the economy — 28% of millennial workers were already at the management level in 2015! — and they're only going to become more important in the coming years. As much as 75% of the U.S. workforce will consist of millennials by 2025!
With unemployment down, it's becoming increasingly difficult to attract and retain top talent, millennials or otherwise. So, as a recruiter, you'll need to learn what millennials want out of their job and adjust your recruitment strategies accordingly.
Who Are Millennials?
Before we go over tips for recruiting millennials, let's look at who they are and what they want. Born after Generation X, millennials are also known as Generation Y. In addition to being the most populated generation in modern history, this generation was born into a rapidly developing technological world. Anyone who became an adult around the turn of the century is a millennial and will likely share a few common characteristics.
Here are a few quick facts about millennials in the workforce:
They're comfortable with technology.

Some Gen Y-ers may have even never needed to submit a hard-copy resume, thanks to the rise of digital resumes, LinkedIn, and online job boards. Gen Y-ers can adapt to new operating systems, programs, and devices and understand visual languages and interfaces more easily than any previous generation.

They're more task-oriented than time-oriented.

This generation places more importance on the quality of the final product than the amount of time spent working on the project.

They're more prone to job-hopping.

Despite being confident and optimistic about the future, many older millennials were disappointed when they completed their degrees only to find themselves unemployed. Between the Great Recession, the lack of career advancement opportunities, and the spike in layoffs during the early days of the pandemic, many workers switched jobs frequently and this trend continues today.

They have different motivations.

While boomers are primarily motivated by bonuses, large salaries, and status and Gen X-ers are entrepreneurial and opportunity-driven, Gen Y-ers want benefits, flexibility, and meaningful work. They're also more creative, progressive, and willing to embrace change. They appreciate transparency, recognition, straightforward management, teamwork, and opportunities for career advancement, and they want to reduce the gender and racial gaps in pay and leadership positions.
Tips For Recruiting Millennials
Having a quick recruitment process is always important, but it's especially so with millennials. Streamline your process to identify, contact, interview, and extend offers to candidates quickly and avoid losing out on excellent candidates to more efficient recruiters.
Using the latest technologies is an easy way to accelerate the recruitment process and attract Gen Y-ers. Make the job application process mobile-friendly, conduct interviews remotely, use interview scheduling software, pay attention to your client's employer brand, and check out Indeed, LinkedIn, and even Instagram or Facebook to reach candidates. Consider making short recruitment videos to quickly get candidates up to speed on your client and their company culture.
You'll also need to up your interview game and ask open-ended questions to learn about candidates' experiences and gain a more holistic understanding of them as a person and as an employee. Ask questions like:
What sort of relationship do you want to have with your supervisor?:

You'll be able to see if your candidate's expectations align with your client's corporate culture.

What would a good day at work with us look like for you?:

Similarly, asking this question will give you insight into your candidate's expectations for the job. If there's a disconnect between their expectations and reality, it may not be the right job for your candidate.

What previous experiences have you had that have prepared you for this position?:

Many Gen Y-ers spend a lot of time in school and have less practical experience when they're entering the workforce than older generations. Asking this question will help you understand all of your candidate's experiences, from volunteering to continuing education courses.

How do you prefer to receive feedback?:

Some might prefer biannual reviews, while others want regular feedback. Some might prefer to sit down face-to-face. Others might like a written feedback form. Asking this question will ensure your client and your candidate are on the same page.
Also, make sure you're prepared to answer their questions, as millennials are more likely to ask questions during an interview to determine if the company is a good fit for them and their goals. For this generation, salary isn't the most important factor when evaluating job opportunities, and most would prefer good benefits over a pay raise. So, be ready to answer questions about the benefits your client offers, from health insurance to vacation policies.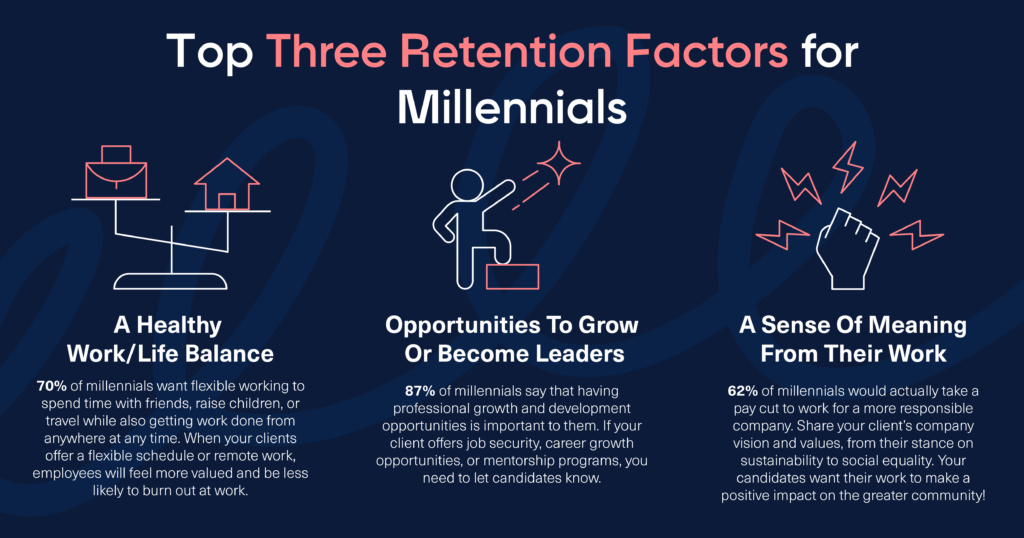 How To Hire And Maintain Millennials
Millennials are known job-hoppers, but there are a few things your client can do to hire them and keep them satisfied. Some top retention factors for millennials are:
A Healthy Work/Life Balance And A Flexible Schedule
Since Gen Y-ers are so task-oriented, it isn't surprising that having a healthy work/life balance is critical and 70% want flexible working. By offering a flexible schedule or remote work, your client can make their employees feel more valued and trusted. They'll also be less likely to burn out at work and more likely to stay with the company, as they'll be able to spend time with their friends, raise their children, or travel while also getting their work done anywhere at any time.
Opportunities To Grow Or Become Leaders
87% of millennials say that having professional or career growth and development opportunities is important to them, which isn't surprising given that many entered the workforce during the Great Recession and struggled for years to find or keep jobs. So, if your client offers job security, career growth opportunities, or mentorship programs, you need to let candidates know. This will also help them envision their professional future within your client's organization. On the other hand, if your client doesn't help them grow, they'll likely start applying for a new position.
A Sense Of Meaning From Their Work
This generation cares about the world and their communities more than previous generations, so it makes sense they also want their work to make a positive impact. 62% would actually take a pay cut to work for a more responsible company! Make sure to share your client's company vision and values, from their stance on sustainability to social equality, and let your candidate know how they'll be contributing towards the company and helping make the world a better place.
Looking to hire Gen Z's? Here are some tips.